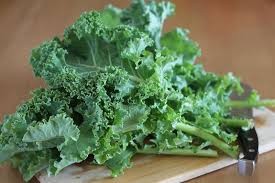 Mat announced the super foods for the Fitness Commitment challenge weeks five and six.
Kale was for week five, and what an awesome choice that was! Kale is one of the most nutrient dense foods out there. It is one of nutritarian Dr. Fuhrman's favorite food choices. You should have kale everyday! Kale lowers your risk of cancer and supports your body's detoxification system. It has Vitamin A, Vitamin C and is very high in Vitamin K, which any Americans often lack. Vitamin K is essential for bone health and brain function.
Mat made a unique choice with coconut oil. My friend Jackie explained the benefits of coconut oil a while back. Read her article to find out all the benefits of this superfood!
There are just a few more weeks of the challenge left. It will be interesting to see what Mat picks next. So far, I already have everything he's mentioned in my diet. It's tough to challenge someone's eating when they already eat so healthy!