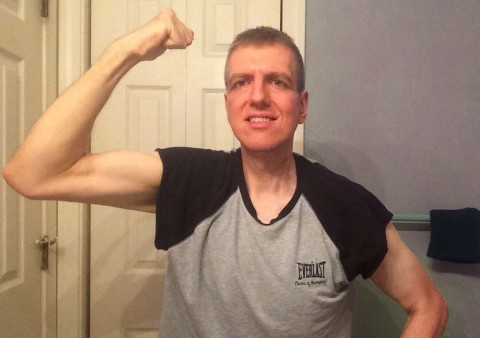 I am still working on my pull-ups, but that challenge will coincide with a 13 week challenge that I started last week for Shred It.
Shred It is the name of Robert Cheeke's book and companion workout journal. Cheeke is a whole food, plant based body builder who proves that you can build muscle without overloading your body with protein. He's been vegan for over twenty years and the muscle he shows on his arms... many body builder would wrongly assume he's having a ton of protein. Nothing could be further from the truth!
People only need to get 5 - 10 percent of their calories from protein. He said if someone were protein deficient, they would have to also have an eating disorder and not consume enough calories. Some mistakes that vegans make are not getting enough calories, by not eating enough food, I've learned so much from his book...
I'm probably about 90 percent vegan. I do occasionally have turkey or eggs, but it's only about once a week now. I want to do this challenge to prove to others that you don't have to have high protein to get bigger muscles. I want to put an end to the myth that you can't get enough protein or calories on a plant based diet.
I am not trying to push others into a vegan diet, but it would be nice to inspire someone after I complete the challenge. People can eat whatever way they want, but I wish there wasn't so much judgment about plant based diets. I heard three times today, "I could never do that". That's fine, I'm just doing it because first of all, I like the taste of vegetables. I think plant based foods are healthier. I also think it's important for the planet to consume less animal products.
I've been trying to build muscle for the past couple years. Although I've had some growth, I think I wasn't consuming enough calories. I ate enough to keep my weight steady, so I know it wasn't too low. But from what I was reading in Robert's book, I should be eating about 3500 calories a day in order to get growth. I think I was getting about 2800 calories per day.
So how does someone who is plant based get enough calories, or even more calories than the bare minimum? I added extra avocados, nut butters, sweet potatoes, etc. There are so many varieties of plant based foods to eat. I now have two smoothies a day, as opposed to one. I also gave up most protein powders. The only ones I have are a rice protein and pea protein. These protein powders have no other ingredients in them (well except for vanilla in the rice protein). I just use them as an extra insurance to make sure my protein is covered. I think I read that Robert Cheeke adds rice protein to his smoothies, which gave me the idea to use the powder.
I can honestly feel more muscle after just a week of doing the challenge. Like I said, I think my biggest problem the past few years was not getting enough calories. I definitely had enough protein and worked out 5 days a week. But plant based people need more calories to build muscle. I'm so glad I found the book... it should make a huge difference!
Here are some photos from the first week of the challenge. I plan to update photos as I go along.
For more information about Robert Cheeke, check out his website.