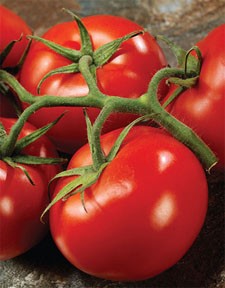 I eat tomatoes every single day. I've always loved tomatoes, since I was a kid. Back then, I didn't eat them because they were healthy, I just ate them because they tasted good.
The red color in tomatoes is from lycopene. This bright red carotene and carotenoid pigment and phytochemical found in tomatoes can help protect against cancer. It also protects the body against damage from free radicals. Lycopene is also found to suppress the growth of human cancer cells.
Tomatoes are also a good source of potassium and contain vitamin C.
One important thing to note is that the lycopene is better absorbed in your body when you cook tomatoes. This is the opposite of other plant based foods that have less nutrients when you cook them. Tomatoes are unique in that respect. Don't get me wrong though, they are still great for you uncooked. I have mine in salads and I have stewed tomatoes as well.
I guess I was lucky in that I always liked tomatoes. Too bad the candy and ice cream that I ate as a kid don't fall into the same category!