The Superfood To Eat: Watercress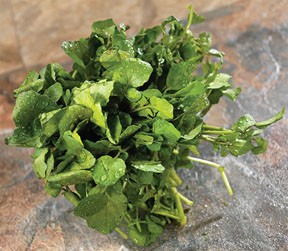 Watercress is a low-calorie green leafy vegetables and has only about 10 calories per 100 g raw leaves. It is rich in anti-oxidants and is low-fat. I first learned of this vegetable from Dr. Fuhrman.
Watercress has more vitamin C than many other fruits and vegetables. 100 g of leaves provide 47 mg or 72 percent of RDA of vitamin C. This food will help fight free radicals and can prevent cancer.
Another benefit to watercress is that it is an excellent source of Vitamin K. This vitamin will keep your bones strong and keep your brain healthy.
I never thought I would like watercress as much as I do. It's a great choice to use on top of your salad.
On my next post, I plan to write about the rest of my superfoods so that you can have the complete list of 10 foods.