Shred It! Challenge Week 12 Update ... 3 Months Without Meat
Today marks 3 months since I last had animal products. I actually started the "Shred It!" challenge on Sept. 3rd, but had chicken on Sept. 6th. Ever since then, I've had no animal products. The purpose of this challenge is to build muscle as a plant based eater, rather than load up my body with too much protein that other bodybuilders do.
I didn't want the health problems that other weight lifters get.. kidney or liver damage from too much protein. Robert Cheeke's book proved that all that extra protein was not needed and that muscle growth can happen with just plants.
So have I been craving the animal products since then? So far, not at all! Have I been extra hungry without the meat... can't say that I have. Have I lost weight since going vegan? Again, no. In fact I gained 10 pounds of what I hope is muscle since I started.
I don't want to post ay updated photos of my arms or chest until next week, when it will be the final week of the challenge. The photo below is actually from 3 or 4 weeks ago.
I just know I feel great eating this way and have lots of energy. I'll post more pictures next week.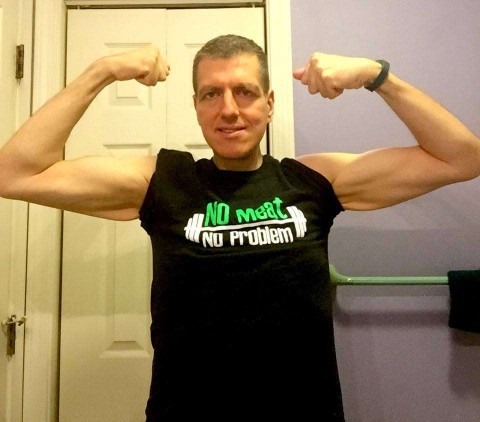 Related Posts
By accepting you will be accessing a service provided by a third-party external to https://www.healthylivingct.com/