I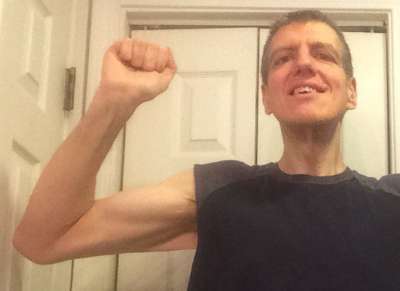 'm back in my workout routine completely, after suffering from tendinitis last month. It really slowed progression as my body fat remained virtually the same as the previous time it was checked.
But after a few weeks of working out my arms again, I notice that I am getting stronger again. When I had the tendinitis, I avoided any kind of arm exercise, and I couldn't do any chest press, etc. I am happy I waited until I was completely healed before I returned to my normal workout routine.
My orthopedist gave me the clear last week, said I could return one hundred percent to my activity. It's completely healed, and I think I had such a speedy recovery from it because of the anti-inflammatory foods I consume daily, like turmeric.
I'm confident that the next time by body fat is checked, it will show progress. I know I'm working hard and I think I have very little loose skin in my arms and chest.
I'm also in the middle of an ab challenge. I can't wait to see how my abs look at the end of the challenge. Day 30 of the challenge will be tough... 160 crunches, 64 leg raises and a 155 second plank. I don't even want to think about that yet!
Remember if you have any injury, make sure you rest. You'll get back into the game in no time if you let yourself heal. I'm glad I waited to feel better... it made my workouts that much better!