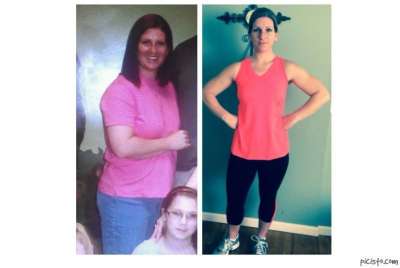 Allow me to introduce myself to all of you fabulous fitness friends on here! My name is Jackie & I am a busy mom of 2 AMAZING girls. I am passionate about health, fitness & overall well being. My fanatical routine that I currently possess has not been that way for long, though. It will be 2 years, next month, from when my journey began. Allow me to share.
My youngest daughter was turning 5 & for her birthday, she wanted to go to Build a Bear! My in laws made the drive over to our place & we all headed out. Before heading into the store, someone was nice enough to take a family picture of all of us. The day was GREAT! As soon as we got home, I rushed to the computer to upload the pictures from the day. THERE IT WAS. The picture that changed my life. It is my now famous "before" picture.
Needless to say, I almost fell out of my chair when I saw myself. Yes, I had been purchasing bigger clothes. Yes I ate crappy food. No I did not exercise. But NO WAY was that ME! I called my husband over & demanded that he be truthful (BLESS THAT MAN). No it was NOT a bad angle. It was ME that I was looking at. It was how the world saw me. More importantly, it was the example I was setting for my 2 daughters. I buried my face in my hands & sobbed.
How did this happen? How did I allow this to happen? I even dusted off the scale & hopped on! WHOA! I wracked my brain for the next few hours. The answer came simply. I was out of control. There was no more hiding from the truth. I HAD to change. In that very moment, it happened & I never looked back! I committed to lose the weight NATURALLY. No quick fixes, no fad diets. Just good old fashioned hard work, consistency, diet & exercise! To date, 80 lbs have been shed.
This 2 year journey has turned out to be so much more than losing weight. That was the easy part. I realized that I was hiding behind food & substances that were keeping me checked out & in MAJOR denial. I had been running from so many traumatic lifetime events & it was NOW time to deal with them! It was time to get sober & heal. I am an "all or nothing" type of personality so that works in my favor with my lifestyle change. It didn't do me any favors prior to seeing that picture!
I am beyond committed to this & am SO thankful for the opportunity that picture gave me 2 years ago. I realize that my TRUE passion is being the healthiest version of myself & have plans to pay it forward. I am currently enrolled in courses to obtain my Personal Training & Group Fitness Certifications. It's funny how life has a beautiful way of working itself out!