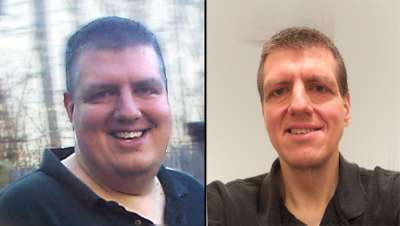 A reminder of how far I've come...
Here's proof that the strength training is slowly working… My body fat percentage came down. It went from 22 percent down to 20! I think my abs are flattening out and maybe soon I'll see the muscles underneath.
It's important to have a personal trainer if you're someone like me. I never did much weight lifting and I certainly didn't have the proper form when I did lift. I was stuck on the weight machines for so long, getting nowhere. The personal trainer has taught me a lot, not just about exercise, but how much protein I need. The combination of proper nutrition and using the Cybex Smith machine has helped me so much.
Another benefit of having a trainer: I have the habit of getting bad form once in a while. The trainer reminded me of the proper form and I feel confident that I'll do it right the next time I work out.
My goal is to eventually get to a body fat percentage of around 13. I no longer check my weight every day. I try and do it maybe a few times a week. Weight is no longer an issue, as muscle is the focus.