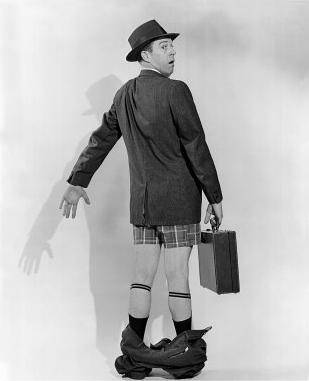 In a recent post I mentioned a pivotal "moment of clarity" most people experience when they resolve themselves to lose weight. Mine was somewhat embarrassing to say the least. However... as clear as that moment was... it came with another reinforcing experience that definitely sealed the deal with my need to live a more healthy lifestyle and to achieve a healthier weight.
Often for work I would travel to Boston, MA. One of my offices was there since the product management team was run from that location. I would travel there 2 to 3 times every other week. I would take the long drive from Bristol Connecticut to one of the outer lying towns near Boston and take the T rail into the city. I would get off at Government Center station and walk 4 blocks to the office.
One day at the office during lunch my belt broke. Yes... my belt broke for the first time in my life... how embarrassing. The buckle end of the belt was screwed into the leather with tiny screws... I guess the pressure was too much for it and it tore through the end of the leather. As embarrassing as this may seem it gets worse later in the day.
On my way back to the T I would have to cross this 6 lane roadway. Normally you would wait for the crossing light to flash and you are given a 10 second countdown before the light goes off and traffic resumes. I came upon the street where the countdown was at 4, leaving me with 4 seconds to cross. I thought "Hey, even though I may not be as agile as I used to be I should be able to dart across before it changes back" So I dash across. Since my belt broke earlier in the day my pants kept creeping down and I would have to continually pull them up. When running across the street... you guessed it... they started to creep down. They crept down far enough that when I was trying to run full stride to make it across the street they bound up my legs. I felt like a terrified penguin trying to make it across before getting squashed by crazed drivers trying to make their way home from work. With my legs bound up... I went from full bounds to having my legs skipping in short strides. Now my top half of my body was moving much faster than my bottom half because of the shift in momentum.
BAM!
I fell flat on my face. Stunned I got up as fast as I could... not to see if I was ok... or to look to see if I had to dodge oncoming traffic... like an idiot... my first impression was to look around to see if anyone saw me fall! And of course everyone did... I picked up my computer bag which was in the next lane ahead of me, dusted myself off... just to notice that MY SHOE FELL OFF 3 LANES BACK!... I ran out and got my shoe... for the rest of the walk back to the T I thought to myself that I would end up on Youtube as some viral video of "Crazy fat man takes a face plant in the middle of the street". Defeated again, with bloodied knees I road the T back to where my car was parked thinking... "damnit I need to lose the weight".