Vegetarian Vision Expo Was Well Worth It!
This past weekend, I attended the Vegetarian Vision Expo in New York City. Dr. Joel Fuhrman, Dr. Robert Ostfeld and Dr. Caldwell Esselstyn were all giving lectures, among others. I decided it would be worth it to buy tickets for both days as all of the speakers were great.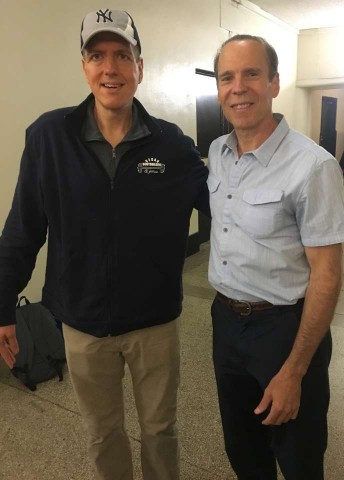 I had been eager to hear Dr. Fuhrman in person as I interviewed him over the phone last year, but never met him in person. I first learned of Dr. Fuhrman on the Dr. Oz Show over 5 years ago. I purchased many of his books since then, "The End of Dieting",, "The End of Diabetes" and most recently "The End of Heart Disease". He offers science behind what he says, and he is the first doctor to make me aware of the dangers of eating too many animal products. I learned what foods lower blood pressure from him, what foods would help me lose weight. I credit his work for giving me the information I needed to begin my health journey. He wasn't the only one I read during that time, but he had one of the biggest impacts on my nutrition.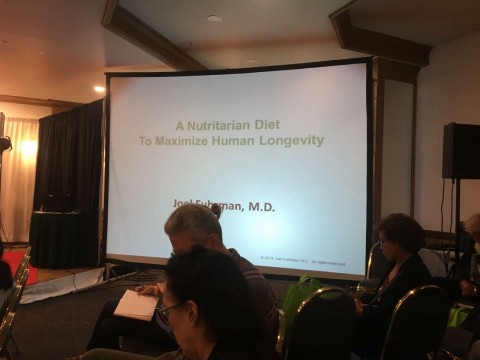 I research a lot about diet and healthy foods but it all started with Fuhrman, so it was an honor to meet him. At the end of his lecture, Dr. Fuhrman had me stand as he shared my success story with the group. I am one of the many success stories on his website. I was so honored that he mentioned me! By the way, his next book is coming out next month called "Fast Food Genocide". I can't wait to read it!
Dr. Esselstyn's talk was very eye opening. To see the evidence in the slides he displayed, just amazing what a plant based diet can do. There are countless patients that have recovered after eating a healthy plant based diet and he has the numbers to prove it. I thought it was an awesome presentation.
Dr. Ostfeld didn't disappoint either. I had heard Dr. Ostfeld a few months ago at the Veg Fest, and he did an awesome job here too. My favorite line that he said was about when some of his patients say it's extreme to eat a plant based diet. He said that he thinks it's extreme to rip open someone's chest and repair a heart valve. I don't know his exact words as I'm not a doctor, but he phrased it better than I did!
I loved the speakers but there wasn't as many food samples as the Veg Fest. I guess this festival was less about food samples and more about the lectures. If somehow the food from the Veg Fest and the speakers from this Vegetarian Vision were at one festival, it would be completely awesome.
The only bad part of the trip was the lunch I had at Times Square. The expo didn't accept debit cards, so I thought I'll go to one of the restaurants outside. Not a good idea! At the restaurant, I thought I'll get a salad. They offered four toppings for the salad, how could that be bad? So I chose the kind of greens I wanted... the woman, who did not understand much English, asked me what I wanted. I told her black beans... that was great, she got that right! Then I said chick peas. OK, I can see why she thought I said "chicken", so not big deal, I stopped her before she put it in. After that, she continued to use the same utensil from the chicken as she picked up the other veggies I requested. Each time I tried to stop her, tell her I wanted her to use a different utensil as the one she had touched the chicken, she did not understand. Someone else ended up making the salad. But the damage was already done, all the foods were already touched by the chicken so it didn't matter who made it at that point. To make a long story short, all I ended up eating were the greens.
Sorry about the rant, back to the expo. I am so glad I attended. None of the doctors disappointed and all proved with science how plant based eating successfully reverses heart disease among many other diseases. It's tough to say who did the best job as I was impressed with all of them.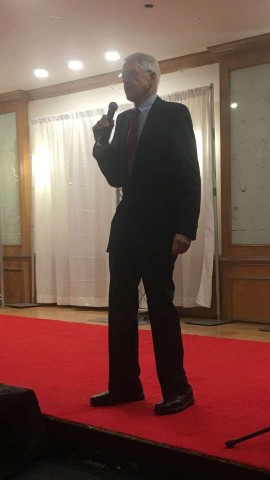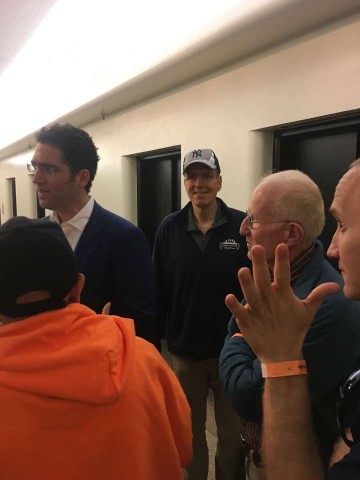 Related Posts
Comment for this post has been locked by admin.
By accepting you will be accessing a service provided by a third-party external to https://www.healthylivingct.com/