The NYC Eat Well Stay Well One Day Immersion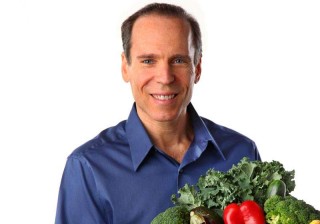 I first learned about Dr. Joel Fuhrman back in 2012, when I was first started my weight loss journey. He had an enormous impact on how I ate back then when I started and it continues to this day. Although I follow all the plant based doctors now, I credit Dr. Fuhrman for opening my eyes to healthy plant based foods.
I still eat his recommended GBOMBS foods (greens, beans, onions, mushrooms, berries and seeds) along with a variety of other plant based foods. The GBOMBS foods specifically provide all the essential micronutrients you need to live a healthy life.
I met Dr. Fuhrman last year and it was awesome. He had me stand as he talked a bit about my weight loss at the end of his program. It really was an honor to have him acknowledge me. I plan on attending the NYC Eat Well Stay Well One Day Immersion on May 26th as he always delivers a great speech. For more information about Dr. Fuhrman, go to www.drfuhrman.com.
I've also been interested in seeing Chef AJ in person. I've watched many of her videos and admire her work. For those that are interested in learning how to cook plant based, I highly recommend Chef AJ's videos. Check out Chef AJ's videos by going to https://www.youtube.com/user/therealchefaj.
Also speaking will be Saray Stancic, M.D., who is a board-certified Infectious disease specialist. She has one of the first lifestyle medicine practices in the country and is the Chief Medical Officer for WellStart Health, a lifestyle change program. Dr. Stancic also released a documentary called Code Blue: Redefining the Practice of Medicine, which discusses lifestyle medicine in order to prevent, treat, and manage illnesses. For more information, go to www.drstancic.com.
The co-host of the event will be Sharon McRae. She is a plant-based Certified Health Coach from Howard County, Maryland. She's a certified instructor for the Physician's Committee for Responsible Medicine's (PCRM) Food for Life program, and she teaches nutrition and cooking classes. I really look forward to meeting Sharon as she is the one who transformed Dr. Mondo, a licensed therapist and weight loss counselor, to go completely plant based. I was on Dr. Mondo's show twice and know that he speaks very highly of Sharon! For more information about Sharon, visit www.EatWell-StayWell.com.
If you are interested in reclaiming your health or just curious to try plant based eating, I highly recommend the NYC Eat Well Stay Well One Day Immersion. It will give a great overview of a plant based lifestyle, how to cure different diseases like heart disease and how it can improve your energy throughout the day.
You can also get off medication that treats conditions like diabetes, hypertension and cholesterol. Personally, I avoided hypertension medication by working with my doctor to lose the weight with healthy foods and exercise. This one day immersion might inspire you to change toward a healthy lifestyle.
For more info and to register, visit http://eatwell-staywell.com/event/new-york-city-eat-well-stay-well-2019-one-day-immersion/
Mention the code EWSWFF for $10 off the regular ticket price!
Related Posts
By accepting you will be accessing a service provided by a third-party external to https://www.healthylivingct.com/