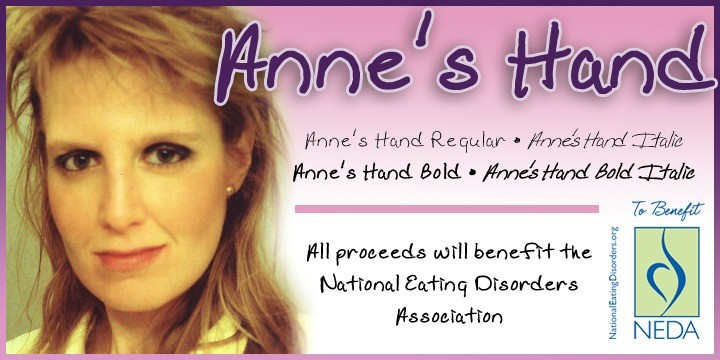 On Monday, my older sister Anne would be celebrating her birthday. She succumbed to the anorexia that plagued her life for nearly 25 years.
Did you know that 20 million women and 10 million men suffer from some form of eating disorder in the United States? Many times cases go undetected. Often times families don't know where to turn for help. There might not be a specialist that's close by and many families may have to send their child several miles away to get treatment. Also, the victims may refuse the help as they refuse to admit that they are sick.
If you are a family member who needs support, contact the National Eating Disorders Assn. They offer so much help, with a supportive team that really understands what families go through.
I created a font in memory of my sister. She loved to write and I thought it would be a nice way to honor her and have the money go to the National Eating Disorders Assn. Please consider donating as there are so many helpless victims and families out there that could use the support that the organization offers.