Healthy Living in Connecticut Blog
Your Story! Your Voice! Your Health!
Congratulations Eric Adams, New York City's First Vegan Mayor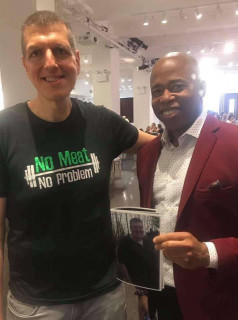 I first met Eric Adams about three years ago at a veg fest in New York. I listened to his story in amazement as he reversed his diabetes that almost left him blind. He got healthy the same way I did, with a plant based diet.
Our stories are very similar. Aside from reversing health conditions as we began our plant based journeys, I found out he went to Google to search for info on how to reverse his diabetes, just as I had done back in 2012 to reverse my hypertension. We didn't choose medication to control our diseases, we sought a cure and found it in whole food plant based eating.
I am so happy New York chose a vegan mayor, not just because Eric makes history as being the first vegan mayor. I'm happy because Eric will make New York safe, as he is also a retired cop, having served for 22 years. He was also Brooklyn Borough president prior to winning the election for mayor. He is a smart guy who will do a lot of great things for the city!
I am eager to see what he will do to push healthier eating habits in schools. I know he played a role in halting processed meats in school lunches. He also played a role in having plant based foods in hospitals. It will be interesting to see what is next for the city. I think they are on the verge of a healthy revolution with his influence. And what New York does, the world will emulate. So this is a big win for plant based vegans for sure. 
I had the honor of interviewing Eric Adams last year and wanted to share it again here. His story is so motivational, I hope you will share it with family members who might have the health conditions that Eric conquered.
[youtube url="https://www.youtube.com/watch?v=0TEQaywSilQ"]
Comment for this post has been locked by admin.