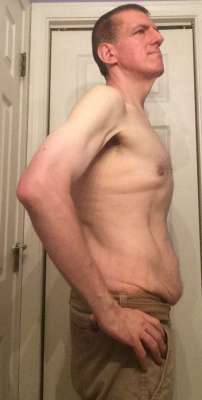 Today, I saw my personal trainer for the first time in a month. What a difference from last month's numbers! My trainer measured my body fat with an instrument called the Bioelectrical Impedance Analysis, and that number came down two percentage points since last month, and it read 16.5!!!
He then used the calipers and after measuring my legs, chest and abs, my total body fat percentage was now 10.6! 10.6... I can't believe it, I'm so close to my goal!
I have been working incredibly hard but I have a ton of energy. My muscle is definitely increasing and the numbers reflect that. My abs, at least to me, have tightened a great deal since last year. I asked my doctor about how much they will tighten and he's not sure if they will tighten further. If they don't, I am so happy with the results anyway. If they do continue to tighten as I stay within ten percent, even better. I know it's worth it as I feel stronger than ever and have lots of energy.
You might be wondering why I keep a personal trainer if I got certified as a personal trainer. No one is perfect and it's good to have a trainer correct my form. I can recognize errors a lot easier on others than I can on myself. Also, an added bonus of having a trainer is having my body fat percentage checked periodically.
I think it was an awesome appointment and I'm happy that he noticed the progress. It's never easy but it's also getting me to be the healthiest I can be, which is the best reason to be doing all the exercising and eating right. I want to avoid diabetes and make sure my blood pressure stays in a healthy range.