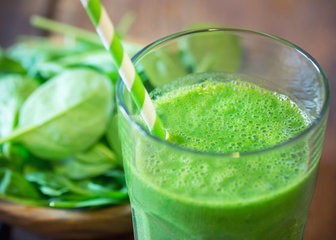 I've been eating healthy foods for over three years now. Mostly vegetables and fruit with minimal turkey, chicken and eggs. I do get a lot of nutrients from the food choices I make, but from what I've been reading, making smoothies gives you the ability to absorb even more nutrients. I figured it would be worth a try.
Last week, I made my first smoothie with broccoli and cauliflower. I thought it tasted disgusting, to be honest. I love eating broccoli and cauliflower whole, but juicing them was not a good idea. Maybe it was the way I made them, maybe I didn't add enough ingredients.
I tried again the following day with different ingredients and it was so much better. I added kale, cucumber, turmeric, goji berries and blueberries and it was awesome! I love to eat big salads so I don't make smoothies for every meal. But it's a convenient way to bring my lunch to work, instead of bringing all the veggies with me.
Now I understand what all the fuss is about with smoothies. I plan to get more creative with them and add other foods like nuts, chia seeds, etc. I don't notice much difference as I already have a lot of energy. I don't think there was any problem in getting enough nutrients before I got a juicer but thought it would be fun to try juicing.
Today, I added kale, cucumber, goji berries and chocolate flavored protein powder (veggie-based) before my workout at the gym. It was a perfect drink to help build muscle and give me energy.
Another benefit to making smoothies: it might be the answer to parents out there that are looking to have their kids eat more vegetables. You could mix a banana or strawberries with kale, and you might be able to get them to eat their vegetables!