Healthy Living in Connecticut Blog
Your Story! Your Voice! Your Health!
Arby's Is Behind The Times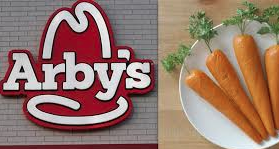 In what seems like a desperate attempt to boost sales in a climate that's switching to plant based, Arby's introduced the "Marrot", a meat based vegetable that looks like a carrot. Yeah, you heard that right, a meat based vegetable. What?
This defiant move shows that Arby's is feeling the heat from plant based alternatives at other restaurants. For example, Burger King will soon be offering the Impossible Whopper nationwide and Pizza Hut will offer a vegan pizza in August. Arby's wants to hold on to their backward thinking. As they said in a recent statement, they don't ever intend to work with Impossible Burger.
This defiance will come back to haunt them. There are more millennials than any other age group that are going vegan. If Arby's is trying to recruit new customers, this campaign is bound to fail, especially with the younger crowd. But maybe they are just trying to appeal to the older meat eaters, which isn't going to grow their business.
The marrot proves that Arby's has no compassion towards animals. By selling such a product, senseless slaughter will increase. It's so tragic that animals have to suffer for what seems like a sick joke.. If Arby's doesn't intend to change and continues to sell their meat, why keep finding even more new meat products as side dishes? Can't they at least come up with some healthy vegetable options to combine with their cholesterol and saturated fat filled foods? Where's the fiber in their food? Where's the micronutrients?
They brag the marrot will have 30 grams of protein. I guess Arby's missed the message that too much animal based protein can cause a host of problems, including cancer. More protein doesn't equal a healthier product. The marketing trend is about increasing protein. Unfortunately, this marketing tactic isn't just limited to Arby's.. I wish more people would listen to Dr. Garth Davis, or check out his book "Proteinaholic".
The young people are moving towards plant based food options. Arby's missed the bus completely here. Once again, more processed foods will hit the market, causing more heart disease and diabetes.
Just for your information, although I am vegan, I am a whole food plant based guy. I don't eat fake veggie meats either. Nothing against them, at least I do see their purpose. The veggie burgers are saving animals, even though they aren't healthy either. It's good that those transitioning to a plant based diet have these fake meats (plant based) as it will make it easier for them to eventually eat more whole plant foods.
Maybe Arby's will see the light one day. For the time being, I won't be surprised when their campaign fails.
Comment for this post has been locked by admin.