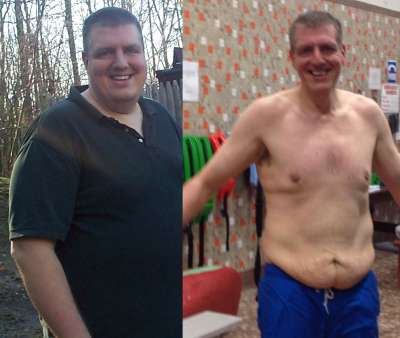 I went to a free consultation a few days ago. I wanted to find out about Smart Lipo, as I read that it is a non-invasive procedure to remove pockets of fat in troublesome areas, such as the abs. I don't really want to do any kind of procedure on my belly an would rather it tighten on it's own, but I thought it would be god to hear what the doctor said.
The doctor examined the skin around my abs and lower back. He said I barely have any fat in there and that most of what is there is skin. I would not qualify for a Smart Lipo, as the procedure takes out fat. This surprised me, as my trainer checked my abs a few weeks ago and measured the fat that remains in there.
It's the doctor's opinion that surgery is the only way I would truly get rid of loose skin in the area. I have a few problems with this theory. First, I am absolutely afraid of this type of surgery. The doctor called it a "body lift". The procedure is actually called a panniculectomy. It sounds complicated, as they would remove skin up to above the belly button. Then they would have to create a new belly button. Can you imagine the healing time that would be required for such a procedure/ And what about the risks for infection? No, I don't think this would be for me!
I think I'd rather struggle and find ways to deal with my abs. Besides, despite what the doctor says, I have seem progress in my abs. I still think with time they will improve even more. I can live with the way they look now as it only sticks out like a couple inches above the belt buckle. My belly does not show under clothing. As I get closer to the 13 percent body fat, I will see if there's much difference. That's when my trainer originally said I should start to see a difference.
It was good to get a doctor's opinion though. He was amazed at how much weight I had lost and congratulated me. The weight loss is far more important than a little loose skin, at least I have to keep reminding myself of that!
This is a picture of me from about six months ago. I don't have any recent pictures of my abs, but I do think there's improvement since I first posted this photo.