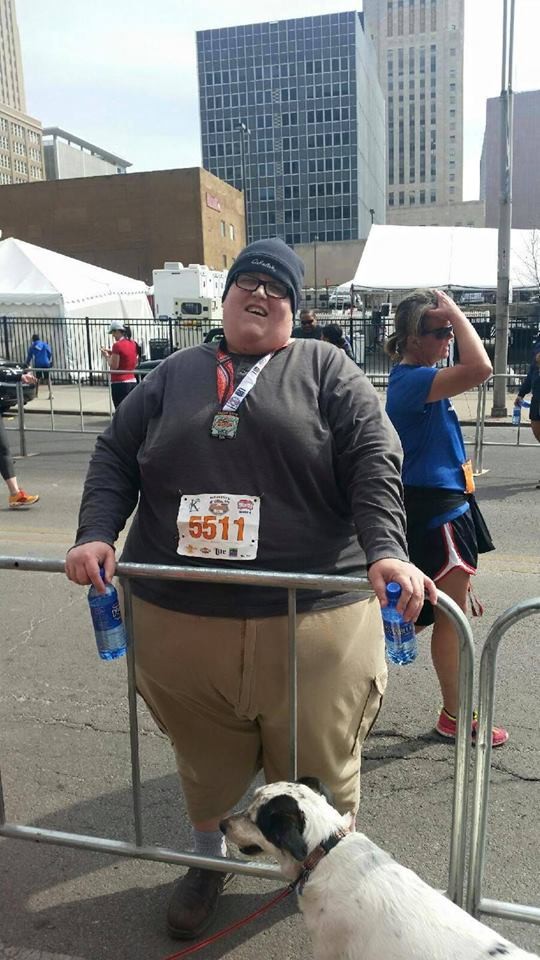 Derek Mitchell made the national news last month when he completed his first 5K race. It wouldn't have made the news except for one fact, he weighed in at 570 pounds. Derek plans to walk a 5K every month this year as he tries to lose weight. I don't have any doubt he'll reach his goals with the determination he has!
I reached out to interview him for this website as I thought his story was very inspirational. I hope to update you on his story as it develops and as he no doubt loses more weight. You can read about his journey on his Facebook page by clicking here.
1. Were you overweight most of your life?
No, I didn't start getting big until I was around 14 or 15 years old.
2. What made you finally decide to lose weight?
When my weight hit 625 last November, I knew I couldn't just wait for my testosterone to get back under control, I needed to get a jump on it.
3. How much weight do you plan to lose at the end of the year?
By the end of the year, I hope to lose a total of 250 pounds.
4. What got you interested in doing marathons?
My sister, Gina Reed, has run a marathon, some half marathons, and several 5k's and 10k's. It was her idea to use 5k's as a goal to walk towards.
5. How has your diet changed from last year? It sounds like you are eating more vegan type food?
At the beginning, I was focused on eating better and less frequently. I am currently in the middle of a 30 day vegan challenge. Once that is over, my next challenge is to not eat at anything that has a drive through window, with few exceptions, like maybe Subway, they have good chopped salads.
6. How long did it take you to reach over 600 pounds... did it happen over the past couple of years or were you that heavy as a teen too?
My weight gain was very gradual....in high school it was around a couple hundred, then 3, then 4...etc. It wasn't all at once....very gradual.
7. Have you thought about what life will be like once you lose the weight? Do you notice any health improvements as you start to lose weight?
I just want to end up being a healthier version of myself. I know that I have a very long road ahead, but I feel like I have an excellent support system in place to get it done. I've already started feeling like I have more energy, so I hope that continues to improve as my health does.
8. Did you have any health issues like diabetes or hypertension? If you do, I'm sure they will get better as you lose the weight.
Doctors have always been really surprised, because I've never had any diabetes, hypertension, blood pressure, or even cholesterol problems.
9. How many 5K's have you completed so far? Has your time improved during each one?
I have completed 2, March 14 - Big12 5k - 1:27:44, April 11 - Rock The Parkway 5k - 1:19:17.
Thanks to Derek Mitchell for agreeing to be a part of the interview. Hopefully, you will find his story inspirational as he continues his path toward a healthy weight.