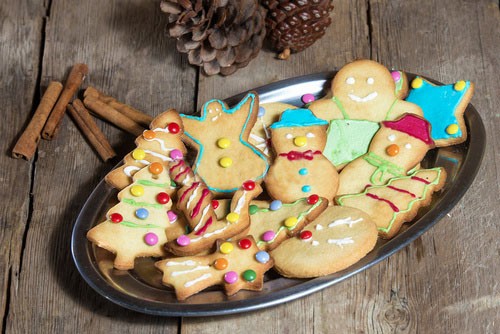 I know so many people get stressed this time of year about overeating. There are so many opportunities to overeat during the holidays, that it's easy to binge on the wrong foods. I thought I would offer some tips on what has worked for me when I'm in a setting with lots of junk food.
If it were four years ago, I would think nothing of downing a plate of Christmas cookies in one sitting. I have a big appetite and I had difficulty stopping at just one cookie. So what's changed for me that I'm able to have better control? Healthy eating.
I've said it before... once you eat healthy, the cravings for the bad foods go away, at least it is the case for me. Now, I can look at a plate of cookies and not be tempted. The reason for this is simple... I'm full from all the healthy foods I've eaten during the day.
I eat every couple hours, so I keep my appetite in check. I still have large portions, but of vegetables, nuts and seeds. It's amazing how satisfying a smoothie and almond butter can be... gets me through my workout before I have my protein shake.
When I'm at a holiday party, I make sure I eat the salad first, with lots of veggies. This way, I'm full enough that I won't eat the whole plate of cookies.
Another piece of advice? If you do eat a few cookies, just go right back to healthy eating. A lot of people think that they blew their diet and just give up on eating healthy because of it. Instead of thinking that way, just go back to healthy eating for the next meal. Eventually, you will start craving the healthier foods and it will be easy to eat this way every day.