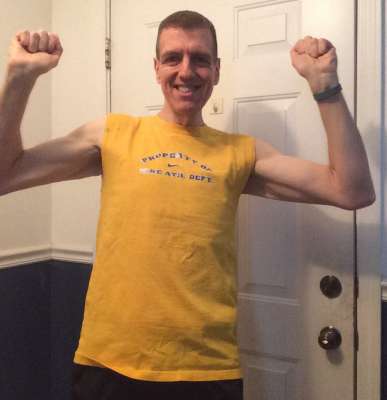 For a brief moment the other week, I thought about getting an abdominoplasty, otherwise known as a tummy tuck. I went to a consultation a few weeks ago and learned about the procedure, how much it would cost and what recovery would be like. But I've decided against it and here's why...
There are signs of improvement! Every consultation I get seems to suggest my abs are improving. The first consultation I did back in 2014, the doctor said I would need a full body lift, essentially removing skin from both my front and back around the abs. No way would I consider that... there must be a better way. I went to another consultation and the doctor told me she thought my muscles looked good and wouldn't need any repositioning. People who have tummy tucks often have to have their muscles repositioned because of how stretched they get from the extra weight. This last consultation I had a few weeks ago, the doctor told me he can see some definition starting to show (of course much of it is still hidden under the extra skin). This made me think, why rush into a tummy tuck, there's still room for improvement.
I'm against surgery for weight loss unless absolutely necessary. I am against surgery to lose weight, unless someone is extremely obese and it's medically necessary, so how can I get surgery and preach against gastric bypass? It seems to be a conflicting message, at least in my eyes.
Vanity. A friend of mine was talking about vanity and suggesting it was more about trying to look better and not necessary. She was right. I didn't lose weight for appearance reasons, but I wanted to get healthy and avoid blood pressure medication. I know I'm not going to be a model, so why should I care about how my belly looks? But somewhere in the back of my mind, I still want to have abs that look good. and that brings me to my next point.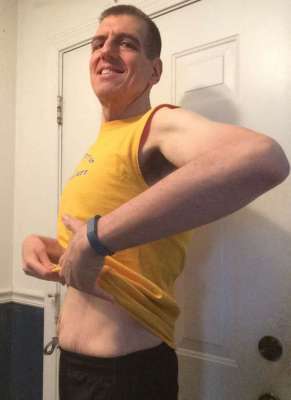 My abs don't look that bad! There are ways to hide that extra bit of skin, even when in a bathing suit at the beach, so no one would ever know.
I'm scared of surgery. Considering the only time I've ever had surgery was when I was 5 to have my tonsils out, getting an abdominoplasty seems like an extremely invasive and painful procedure. I'm lucky to be healthy and I wouldn't want to go through such a procedure when I feel great.
My body fat hasn't reached 10 percent yet. I had my body fat checked at Southern CT State University last Thursday. There hasn't been much change in my body fat, which says to me that there is still room for tightening!
My abs motivate me. I push the weights hard because I want my skin to look better. If I just cut the skin away, to me, it would be a lazy way to improve. I would rather work toward my results.
I learned that my arms can be completely tight with more muscle, my chest doesn't have any loose skin; it's really just my abs. So I'll continue to work hard and try not to get impatient for results.