Quinoa Patties over Sauteed Spinach
Ready in: 20 minutes
Serves: 1
Complexity: easy
Calories: Calories: 298, Fat: 9g, Saturated Fat: 1g, Cholesterol: 0mg, Carbohydrates: 41g, Fiber: 11g, Sugar: 3g, Protein: 15g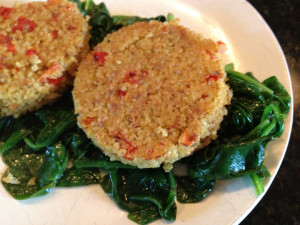 Ingredients
¾ cup Cooked Quinoa (cook in organic vegetable broth instead of water for lots more flavor!)
½ red bell pepper, finely chopped
4 tsp. flaxseed
Sea salt and ground black pepper (to taste)
1 large egg white
Olive oil
3 cups fresh baby spinach
Directions
Combine cooked quinoa, bell pepper, flaxseed, salt, pepper, and egg in medium bowl; mix well. Form two balls. Place one ball in a flat 1-cup measure. Press into a patty using flat ½ cup measure. Turn 1-cup measure over to release patty. Repeat with other ball.
Heat medium skillet lightly coated with olive oil over medium heat. Place patties in skillet; cook for four minutes. Turn and cook for four minutes or until light golden. Remove from skillet. Keep warm.
Add spinach to skillet; cook, stirring frequently until wilted. (for more flavor, saute with minced shallots, olive oil and a squirt of lemon) Place spinach on serving plate and top with patties.