Pasta with Mahimahi, Tomatoes, and Basil
Ready in: 30min
Serves: 4
Complexity: medium
Calories: 380 (serv)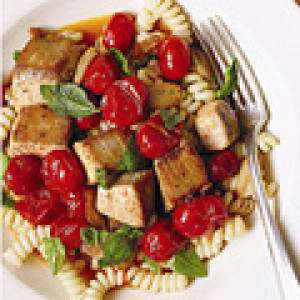 Ingredients
1/2 pound multigrain rotini pasta
2 teaspoon(s) extra-virgin olive oil
1 tablespoon(s) extra-virgin olive oi
1 pound skinless mahimahi, cut into 1-inch chunks
Salt and ground black pepper
2 clove garlic, thinly sliced
3 cup (about 1 1/2 pints) grape tomatoes
1/4 cup dry white wine
1/2 cup firmly packed fresh basil leaves
Directions
Heat large covered saucepot of salted water to boiling over high heat. Add pasta and cook as label directs.
Meanwhile, in deep nonstick 12-inch skillet, heat 2 teaspoons oil over medium-high heat until hot. Add mahimahi; sprinkle with 1/4 teaspoon salt and 1/8 teaspoon pepper and cook 3 to 4 minutes or just until mahimahi turns opaque in center, gently stirring. Transfer mahimahi to plate; set aside.
In same skillet, heat remaining 1 tablespoon oil over medium heat until hot. Add garlic and cook 1 minute or until golden, stirring constantly. Add tomatoes; cover and cook 4 to 5 minutes or until tomatoes burst, stirring occasionally. Stir in wine, half of basil, 1/4 teaspoon salt, and 1/8 teaspoon pepper; cook, uncovered, 1 minute to blend flavors.
Reserve 1/4 cup pasta cooking water, then drain pasta. Add pasta, reserved cooking water, mahimahi, and remaining basil to tomato mixture in skillet; toss until well combined.