Vietnamese-Style Shrimp in Lettuce Cups
Ready in: 45min
Serves: 4
Complexity: medium
Calories: 345 (serv)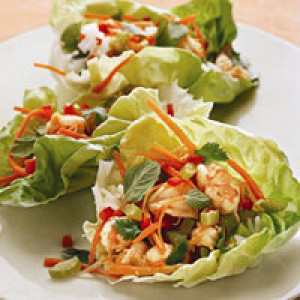 Ingredients
1 cup jasmine rice
1 pound shelled and deveined medium shrimp
2 tablespoons less-sodium fish sauce
1 tablespoon reduced-sodium soy sauce
2 tablespoons fresh lime juice
3 cloves garlic, crushed with press
1 teaspoon vegetable oil
2 medium stalks celery, each cut lengthwise in half, then thinly sliced crosswise
1 cup shredded or matchstick-thin carrots
2 teaspoons grated peeled fresh ginger
1 cup loosely packed fresh cilantro
1 cup loosely packed fresh mint leaves
12 Boston lettuce leaves
Directions
Prepare rice as label directs.
Meanwhile, coarsely chop shrimp. In medium bowl, combine shrimp, fish sauce, soy sauce, lime juice, and garlic; set aside.
In nonstick 12-inch skillet, heat oil over medium-high heat. Add celery, carrots, and ginger; cook 2 minutes, stirring frequently. Add shrimp mixture and cook 1 to 2 minutes or just until shrimp turn opaque, stirring constantly. Remove skillet from heat; stir in half of cilantro and mint.
Divide rice among lettuce leaves; top with shrimp mixture and remaining herbs. Fold leaves over shrimp mixture and eat out of hand.