Seared Scallops with Saffron Couscous
Ready in: 27min
Serves: 4
Complexity: easy
Calories: 400 (serv)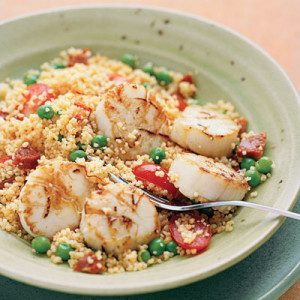 Ingredients
1 large lemon
1 bottle(s) (8-ounce) clam juice
1/4 cup(s) water
1/2 cup(s) grape tomatoes, each cut in half
1 ounce(s) fully cooked chorizo, cut into 1/4-inch pieces (about 1/4 cup)
1/4 teaspoon(s) saffron threads, crumbled
1 package(s) (10-ounce) frozen peas
1 cup(s) couscous
1/2 teaspoon(s) salt
1/4 teaspoon(s) coarsely ground black pepper
1 pound(s) sea scallops
1 tablespoon(s) olive oil
Directions
From lemon, grate 2 teaspoons peel and squeeze 2 tablespoons juice.
In 3-quart saucepan, heat clam juice, water, tomatoes, chorizo, and saffron to boiling over high heat. Stir in peas; heat to boiling. Remove saucepan from heat; stir in couscous, 1 teaspoon lemon peel, and 1/4 teaspoon salt. Cover and let stand 5 minutes.
Meanwhile, pull off and discard tough crescent-shaped muscle, if any, from each scallop. Rinse scallops under cold running water to remove sand from crevices. Pat scallops dry with paper towels.
In medium bowl, toss scallops with 1/4 teaspoon salt, 1/4 teaspoon pepper, and remaining 1 teaspoon lemon peel. In 12-inch skillet, heat oil over medium-high heat until very hot. Add scallops; cook 5 to 6 minutes or until browned and opaque throughout, turning over once.
Remove skillet from heat; stir in lemon juice. Fluff couscous mixture with fork and serve with scallops.