Pumpkin Quinoa Muffins
Ready in: 45minutes
Serves: 12
Complexity: easy
Calories: 228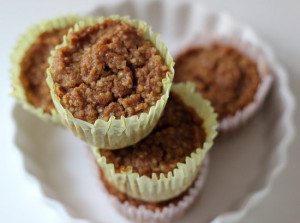 Ingredients
1 cup quinoa
1/4 cup applesauce
1 1/2 cup whole-wheat flour
1/4 cup coconut flour
1/4 cup almond meal
2/3 cup agave syrup
1 1/2 teaspoons baking powder
1 teaspoon salt
3/4 cup almond milk
3/4 cup pumpkin purée
1 teaspoon vanilla
1 teaspoon pumpkin spice
1/2 teaspoon cinnamon
Directions
Preheat oven to 350 degrees. In a medium saucepan, bring quinoa and 1 cup water to a boil. Reduce to a simmer; cover, and cook until water has been absorbed and quinoa is tender, 11 to 13 minutes.
Meanwhile, line a standard 12-cup muffin pan. In a medium bowl, whisk together flour, baking powder, salt, pumpkin spice, cinnamon, and 2 cups cooked quinoa; reserve any leftover quinoa for another use.
In a medium bowl, whisk together applesauce, almond milk, pumpkin purée, agave syrup, and vanilla. Add milk mixture to flour mixture, and stir just until combined; divide batter among prepared muffin cups.
Bake until toothpick inserted into the center of a muffin comes out clean, 25 to 35 minutes. Cool muffins in pan, 5 minutes; transfer to a wire rack to cool completely.