Nancy's Vegetarian Chili
Ready in: Prep Time: 25 Minutes, Cook Time: 8 Hours, 18 Minutes
Serves: 10
Complexity: medium
Calories: 124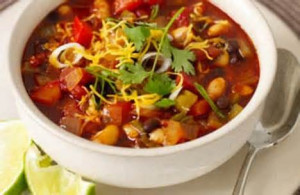 Ingredients
2 large carrots, diced (1 cup)
2 celery ribs, diced (1/2 cup)
1 medium-size sweet onion, diced
Vegetable cooking spray
2 (8-oz.) packages sliced fresh mushrooms
1 large zucchini, chopped (1 1/2 cups)
1 yellow squash, chopped (1 cup)
1 tablespoon chili powder
1 teaspoon dried basil
1 teaspoon seasoned pepper
1 (8-oz.) can tomato sauce
3 cups tomato juice
2 (14 1/2-oz.) cans diced tomatoes, undrained
4 (15-oz.) cans pinto, black, great Northern, or kidney beans, rinsed and drained
1 cup frozen whole kernel corn
Directions
Sauté first 3 ingredients in a large nonstick skillet coated with cooking spray over medium-high heat 10 minutes or until onions are translucent. Add mushrooms, zucchini, and squash; sauté 3 more minutes. Add chili powder and next 2 ingredients, and sauté 5 more minutes.
Stir together tomato sauce and tomato juice in a 6-qt. slow cooker until smooth. Stir in diced tomatoes, next 2 ingredients, and carrot mixture. Cover and cook on LOW 8 hours.
Note: Cool leftovers, and freeze in plastic freezer containers or zip-top plastic freezer bags for up to 2 months.