Maura's Whole Grain Waffles
Ready in: 10 minutes preparation, 5 minutes cooking
Serves: 6
Complexity: easy
Calories: 288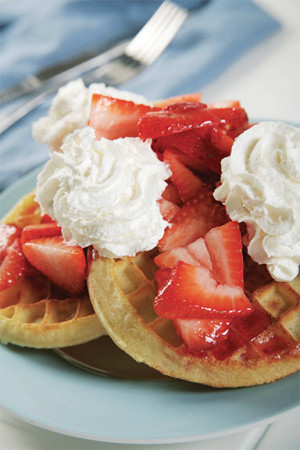 Ingredients
1 1⁄4 cups all purpose flour
3⁄4 cup rolled oats
1⁄4 cup firmly packed light brown sugar
2 tablespoons wheat germ
4 teaspoons baking powder
1 teaspoon ground cinnamon
Pinch fine salt
2 large eggs
1 1⁄2 cups milk
1⁄4 cup unsalted butter, melted
1⁄4 cup peanut or walnut oil
Directions
Preheat a waffle iron to medium-high.
Wish the flour with the oats, sugar, wheat germ, baking powder, cinnamon, and salt in a medium bowl. In another medium bowl, lightly whisk the eggs, then add the milk, melted butter, and oil.
Gently stir the wet ingredients into the dry ingredients with a wooden spoon, to make a batter. Take care not to over work the batter, its fine if there are a few lumps.
Pour 1/3 to 1⁄2 cup of batter per waffle (it depends on the size of your waffle iron) and cook until the waffle is crisp. Repeat with remaining batter.