Healthy Pumpkin Pomegranate Muffins
Ready in: 10 minutes preparation, 15 minutes cooking
Serves: 12
Calories: 127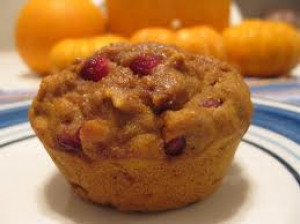 Ingredients
1 cup all-purpose flour
3/4 cup whole wheat flour
1/4 cup Grape-nuts cereal
1/2 cup sugar or 1/2 cup stevia
1 1/2 teaspoons baking powder
1/2 teaspoon baking soda
1 teaspoon cinnamon
1 cup canned pumpkin
1 cup fat-free buttermilk
1 egg, beaten
3/4 to 1 cup pomegranate arils (or seeds)
Directions
Preheat oven to 350. Coat 12 muffin cups with cooking spray.
Mix dry ingredients in a large bowl.
In a second bowl, combine wet ingredients.
Place pomegranate arils in the flour mix to coat.
Add wet ingredients to flour mix. Stir until combined.
Pour into muffin cups. Bake for 20-30 minutes. Let cool.