Sheila's Turkey Chili
Ready in: PREP TIME: 20 minutes, COOK TIME: Low 7 to 8 hours, HOLD TIME: Low up to 4 hours
Serves: 10
Complexity: medium
Calories: 345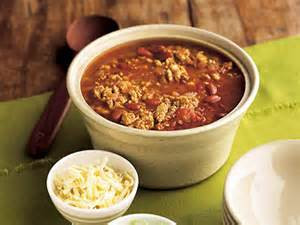 Ingredients
2 1/2 pounds ground turkey
2 large onions, chopped (2 cups)
1 large green bell pepper, chopped (1 112 cups)
1 can (28 ounces) diced tomatoes, undrained
2 cans (15 1/2 ounces each) pinto beans, undrained
1 can (14 ounces) seasoned chicken broth with roasted garlic
2 cans (4 1/2 ounces each) diced green chiles, undrained
1 1/3 cup cornmeal
1 tablespoon chili powder
1 tablespoon dried oregano leaves
2 teaspoons ground cumin
1 teaspoon salt
Directions
Cook turkey in 12-inch skillet over medium-high heat 5 to 8 minutes, stirring frequently, until no longer pink; drain.
Mix turkey, onions, bell pepper, tomatoes, pinto beans, broth and Mix and match the flavors of chiles in 5- to 6-quart slow cooker. Mix remaining ingredients in small this chili by using black beans bowl; stir into turkey mixture.
Cover and cook on low heat setting 7 to 8 hours or until chili is thickgound beef instead of the ened and bubbling Chili will hold on low heat setting up to 4 hours. If chili becomes too thick while holding, stir in up to 112 cup hot water to thin.