Quinoa Chili
Ready in: 30 minutes prep, 35 minutes cooking
Complexity: medium
Calories: 412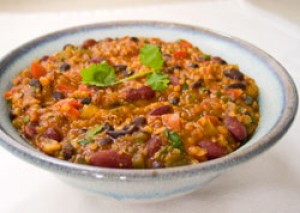 Ingredients
1 cup quinoa, rinsed
2 cups water
1 pound extra lean ground beef
1 tablespoon olive oil
1 onion, chopped
4 cloves garlic, minced
1 jalapeno pepper, seeded and minced
1 tablespoon chili powder
1 tablespoon ground cumin
1 (28 ounce) can crushed tomatos
2 (19 ounce) cans black beans, rinsed and drained
1 green bell pepper, chopped
1 red bell pepper, chopped
1 zucchini, chopped (optional)
1 teaspoon dried oregano leaves
1 teaspoon dried parsley
salt and ground black pepper to taste
1 cup frozen corn kernels, thawed
1 cup frozen corn kernels, thawed
1/4 cup chopped fresh cilantro
Directions
Bring the quinoa and water to a boil in a saucepan over high heat. Reduce heat to medium-low, cover, and simmer until quinoa is tender, and the water absorbed, which takes about 15 to 20 minutes.
Using a large skillet over medium-high heat, stir in the ground beef. Cook and stir until beef is cooked. Drain and discard any excess grease and set beef aside.
In a large pot, heat the olive oil over medium heat. Stir in onions, garlic, and jalapeno peppers; cook and stir until the onion has softened and translucent, probably about 5 minutes. Season with chili powder and cumin; cook another minute. Stir in tomatoes, black beans, green bell pepper, red bell pepper, zucchini, oregano, and parsley. Season to taste. Simmer until the bell peppers are tender.
When peppers are tender, stir in the quinoa, beef, and corn. Return to a simmer, and cook 5 minutes to reheat. Stir in the cilantro and serve.