Nancy's Honey Balsamic Chicken
Ready in: 10-15 minutes preparation, 7-8 minutes cooking on each side
Serves: 4
Complexity: easy
Calories: 173.3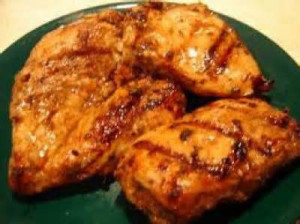 Ingredients
1 1/2 tsp. of dried thyme
1/2 tsp. salt
1/2~ tsp. black pepper
1 tsp. olive oil
1 lb. chicken breast
2 tbsp. balsamic vinegar
2 tbsp. honey
Directions
Combine first three ingredients; sprinkle over both sides of chicken.
Heat oil in large nonstick skillet over medium-high heat.
Add chicken; cook 7 to 8 minutes on each side of chicken or until chicken is done.
Transfer chicken to a platter; keep warm. Reduce heat to medium-low; add vinegar and honey to pan.
Simmer for 1 minute or until glaze thickens; stir constantly. Pour glaze over chicken.