Chicken and Bok Choy Soup
Ready in: 20 minutes preparation, 30 minutes cooking
Serves: 8
Complexity: easy
Calories: 175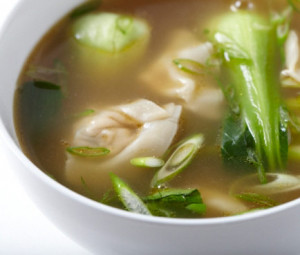 Ingredients
1 tablespoon vegetable oil
1 yellow onion, diced
2 cloves garlic, minced
6 cups water
4 teaspoons chicken soup base
6 small potatoes, diced
4 carrots, sliced
6 large bok choy ribs with leaves, finely chopped
2 stalks celery, sliced
2 skinless, boneless chicken breast halves, cut into 1/2-inch cubes
Directions
Heat vegetable oil in a large stockpot over medium heat.
cook and stir onion and garlic in the hot oil until onion is softened and translucent, about 10 minutes.
Add water, chicken base, potatoes, carrots, bok choy, and celery; bring to a boil. Reduce heat and simmer until vegetables are slightly tender, about 10 minutes. Add chicken; continue simmering until chicken is no longer pink in the center, about 10 minutes.