Angela's Chicken, Potato, and Leek Pie
Ready in: 1 hour, 5 minutes
Serves: 6
Complexity: medium
Calories: 298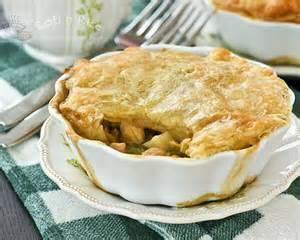 Ingredients
1 slice smoked bacon, chopped
1 1/2 cups cubed red potato (about 8 ounces)
1 cup chopped carrot
6 skinless, boneless chicken thighs, cut into bite-sized pieces
3 1/2 tablespoons all-purpose flour
3 cups sliced leeks (about 2)
1/2 teaspoon kosher salt
1/4 teaspoon pepper
2 cups fat-free, lower-sodium chicken broth
1/2 (14.1-ounce) package refrigerated pie dough
1 tablespoon fat-free milk
1 large egg white Preparation
Directions
Preheat oven to 450°.
Cook bacon in a large Dutch oven over medium heat until almost crisp, stirring frequently. Increase heat to medium-high. Add potato and carrot to pan; sauté 3 minutes, stirring occasionally. Add chicken; sauté 3 minutes or until lightly browned, stirring occasionally. Stir in flour and next 3 ingredients (through pepper); sauté 1 minute, stirring frequently.
Slowly add broth to pan, stirring constantly; bring to a boil. Cook 2 minutes or until slightly thick, stirring occasionally. Spoon mixture into a 1 1/2-quart glass or ceramic baking dish. Top with dough, folding under and pressing down on edges to seal.
Combine milk and egg white; brush mixture over top of dough. Cut small slits in dough to vent. Bake at 450° for 30 minutes or until crust is golden. Let stand 10 minutes.