Alicia's Crab Cake Burgers
Ready in: 20 minutes
Serves: 6
Complexity: medium
Calories: 163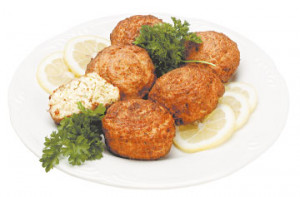 Ingredients
1 pound crabmeat
1 egg, lightly beaten
1/2 cup panko breadcrumbs, (see Note)
1/4 cup light mayonnaise
2 tablespoons minced chives
1 tablespoon Dijon mustard
1 tablespoon lemon juice
1 teaspoon celery seed
1 teaspoon onion powder
1/4 teaspoon freshly ground pepper
4 dashes hot sauce
1 tablespoon extra-virgin olive oil
2 teaspoon unsalted butter
Directions
Mix crab, egg, breadcrumbs, mayonnaise, chives, mustard, lemon juice, celery seed, onion powder, pepper and hot sauce in a large bowl. Form into 6 patties.
Heat oil and butter in a large nonstick skillet over medium heat until the butter stops foaming. Cook the patties until golden brown, about 4 minutes per side.
Note: Panko breadcrumbs, also known as Japanese breadcrumbs or bread flakes, are coarser in texture than other dried breadcrumbs. They produce a crispy crust and are less likely to become soggy than finely ground breadcrumbs. Look for panko in the Asian food section of large supermarkets and in specialty Asian markets.